Squier Guitars...
Exceptional Value, Incredibly Affordable Cost
Take Me To The Guitars
Squier Guitars
provide exceptional value at an incredibly affordable cost. A Squier is a great choice for the beginning guitarist or for the working guitarist who wants a high quality backup instrument for the stage.
Many people over the years have considered Squier guitars to be a low quality, cheap knockoff of Fender Guitars. This, however, is not the case. Fender DOES own Squier, after all. Let's take a look at the history of Squier and see for ourselves what Squier is.
The History of Squier Guitars...
Squier, like Epiphone, has a much longer history than most people realize. Squier's history actually begins in the 1880's with Jerome Bonaparte "J.B." Squier, a young English immigrant. J.B. was a farmer and shoemaker who had learned the fine European art of violin making. J.B moved to Boston in 1881, where he built and repaired violins with his son, Victor Carroll (V.C.) Squier.
V.C. Squier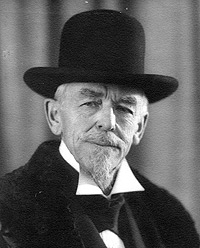 To this day, their violins are noted for their exceptional varnishes, and they command high prices as fine examples of early U.S. instrument craftsmanship. Indeed, J.B. Squier ranks among the best-known U.S.-trained violin makers and is often referred to as "the American Stradivarius."
Victor returned to Battle Creek 1in 1890 and opened his own shop. His business grew and Squier moved the company to 429 Lake Ave. and eventually to 427 Capitol Ave, S.W. - the famous "fiddle factory" of Battle Creek. There was a limited market for violins in Battle Creek so Victor astutely sought relationships with national music schools and famous violinists.
Squier didn't put all his focus on crafting violins, however. He also began to manufacture his own hand-wound violin strings. His business grew so quickly that he and his employees improvised a dramatic production increase by converting a treadle sewing machine into a string winder capable of producing 1,000 uniformly high-quality strings per day in order to keep up with the demand. Squier also branched out into banjo and guitar strings as well. Squier's strings were highly popular because of their high quality and reasonable price.
Enter Fender...
In the 1930s, Squier began making strings for the era's new electric instruments. Fender came on the scene in the 1950s, when the V.C. Squier Company began supplying Leo Fender with strings for his unusual new electric guitars. In 1963 the V.C. Squier Company became an official original equipment manufacturer for Fender and was bought by Fender in 1965 shortly before Fender itself was bought by CBS. By the mid-1970s, the strings had taken the Fender name and the Squier name was retired.
Squier Guitars Are Born...
The CBS era was a dismal one for Fender but the end of the CBS era in the early 1980's signaled a revitalized Fender. At this point many Japanese manufacturers were blatantly copying and, in some cases, cloning vintage Fender designs at very low costs. In one particularly galling instance one manufacturer used headstock logos closely resembling those of original pre-CBS Fender guitars, but using the words "Tokai" (with a large backward uncrossed "F"), "Springy Sound" instead of "Stratocaster", "Breezy Sound" instead of "Telecaster", "Oldies but Goldies" instead of "Original Contour Body" and - the last straw - "This is the exact replica of the good old Strat" instead of "Fender Musical Instruments" in small print below the main logo.
1982 Squier Stratocaster

Fender reacted by setting up its own official Japanese manufacturing operation, Fender Japan, in March 1982. A joint U.S.-Japanese venture, Fender Japan produced guitars with material and technical support from Fender's U.S. facilities; Japanese manufacturing facilities even included factories that had been producing the aforementioned Fender copies. By May, Fender Japan had six vintage instruments - '57 and '62 Stratocaster models, a '52 Telecaster, '57 and '62 Precision Bass models and a '62 Jazz Bass. Squier guitars were born.
Meanwhile, the flood of Asian Fender copies surged over Europe. To combat this, Fender sought a competitive low-cost alternative. Accordingly, the long-dormant Squier name was resurrected and assigned to export versions of the new Fender Japan vintage models. These became known as Squier JV ("Japanese Vintage") instruments. These high-quality models featured minimal design changes, including a small Squier logo on the headstock where the "Original Contour Body" decal normally appeared, and a more cost-effective zinc tremolo block in place of the usual steel block.
These early Squier Guitars JV models were produced until late 1984 and are highly sought after among collectors today for their quality and relative scarcity. Soon after their introduction, a new and larger Squier logo appeared, accompanied by the now-familiar "by Fender" logo.
Source: Official Squier Guitars Website
Next