Squier Guitars...
Into The New Millinneum
Squier Guitars
once again dabbled in areas perhaps better left to others as the 21st century rolled around, with several products designed to appeal to and accommodate more aggressive playing styles.
Squier Showmaster 7 String

The Squier Showmaster Series, much like the HM Series of the 1980s, featured non-pickguard guitars with locking tremolos, multiple humbucking pickup configurations, black hardware and reverse headstock designs. Musical tastes at the time often ran to lower-than-low sub tones fueled by 7-string models, dropped tunings, etc. Squier responded by producing a short-lived 7-string Showmaster guitar.
Throughout the early 2000s, Squier staples such as the Affinity and Standard series continued with few changes other than occasional color additions, although a new twin-pivot bridge with satin anodized saddles was added to the Standard Series (once again mirroring Fender in design evolution).
In 2002 Squier Guitars launched the Series 24 instruments (referring to their 24 3/4" scale length). The new series offered several instrument style options: single-cutaway beginner guitars, semi-hollow-body blues guitars and archtop jazz boxes at an excellent value. Despite the seemingly winning strategy, these products ultimately did not strike a chord(pun intended) with the Fender audience, beginners or otherwise.
Squier Tom Delonge Stratocaster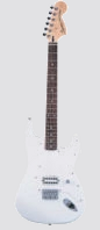 Squier did enjoy some success in 2002, though. For the previous two years best-selling guitar was Fender's Mexico-built Tom DeLonge Stratocaster model. Squier introduced its version of Blink 182 frontman Delonge's signature guitar, which featured a more familiar Fender approach with its '70s style Stratocaster design, plus a single Duncan Designed Detonator humbucking pickup and single volume knob.
More Success For Squier Guitars...
Squier produced a succession of successful launches from the early to mid-2000s, most of which kept the Fender theme. Limited edition Affinity series guitars included a Butterscotch Blonde Telecaster and Two-color Sunburst Stratocaster; new standard colors such as Metallic Red and Metallic Blue were also introduced. Figured-top Deluxe models and black-and-chrome Standard Series models were launched, along with two Telecaster Custom models that became part of the new Vintage Modified family.
2004 Squier '51 Stratocaster

Squier Guitars scored big hits in 2004 with the upgraded Jagmaster II and the popular Squier '51, a value-priced instrument with unique looks - a very cool melting pot of vintage and modern features that combined '51 Precision Bass cosmetics, Stratocaster body shape and a tinted Telecaster neck.
In 2005 Squier Guitars introduced the Master Series - five instruments with dual humbucking pickups intended for players of all styles. In a first for Squier, Fender Custom Shop master builders designed two Master Series models, the M-80 and the Esprit.
2007 Squier Master Series M-80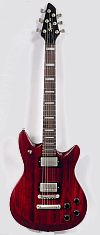 The M-80 was a smaller non-traditional double-cutaway offered in a budget model and a higher-priced version with satin hardware and block fingerboard inlays. The Esprit borrowed its shape and name from a mid-80s Fender model used by players such as Robben Ford and studio ace Tommy Tedesco.
On To The Present Day...
Squier moved into the lifestyle marketing arena in 2006, partnering with the Sanrio company on a successful and certainly distinctive line of Hello Kitty instruments, and with noted graphic artist Shepard Fairey on an equally distinctive line of OBEY guitars.
In 2007, Squier introduced its Vintage Modified series; vintage-styled Stratocaster and Telecaster models with "hot rod" modifications such as custom pickguards and finishes, gloss-finished maple necks and Duncan-Designed pickups.
Artist associations have been an important part of Fender from the beginning, not only in terms of brand awareness, but also as part of product evolution. Following suit, Squier Guitars debuted three Artist Model basses in 2007 - one each from Green Day's Mike Dirnt, Anthrax's Frank Bello and Fall Out Boy's Pete Wentz.
Finally, 2011...
Currently, Squier has an extensive offering of electric guitars including many Stratocaster and Telecaster models as well as a Jaguar model, a Vintage Modified Jazzmaster model, a Classic Vibe Duo-Sonic model and a Vintage Modified Jagmaster model. Both the Jaguar and Jazzmaster are new for 2011. In addition, following the Artist associations strategy, Squier offers three Artist Signature Stratocasters and three Artist Signature Telecaster models. For more information on the various models, follow the links below(the Squire bass guitars will be covered in a different part of the site).
Current Squire Guitar Models...
Jaguar
Jazzmaster
Duo-sonic
Jagmaster
Squier guitars are an excellent choice for the beginning guitarist as well as the intermediate guitarist and are a great backup instrument for the working musician.

Back
Source: Official Squier Guitars Website