Squier Guitars...
Squier Bounces Back
Take Me To The Guitars
Squier Guitars
were imported into the United States by Fender in late 1983 in order to compete with the many copies flooding the domestic market. To make them stand out without competing directly with Fender's existing domestic models, these U.S.-bound Squier models were given 70s features and touted as the first instruments ever "officially authorized" to borrow from Fender's classic designs.
The series included Stratocaster, Telecaster and Precision bass models, and three Bullet models - affordable entry-level instruments combining Stratocaster-style body shapes with Telecaster necks in triple-single-coil or dual-humbucking pickup versions, plus a split-pickup bass with a Telecaster-style headstock. These instruments re-launched the Squier Guitars name in the American market.
Squier Gains Momentum...
1983 Squier Precision Bass
The Squier Standard Series, introduced in the mid-1980s, was based on the original vintage models, but with more up-to-date features (likely mirroring design evolution and standardization at big brother Fender). By 1989, the series had evolved to include the Squier II Stratocaster (which had a more modern-looking tremolo) several non-pickguard contemporary designs, and even the heavy metal HM Series, which featured pointed headstocks and flashy finishes. These contemporary and HM series instruments soon disappeared quietly, but the Standard Series itself continued throughout the early 1990s and evolved into a new generation of Squier models.
1989 Squier HM Strat
The Squier Guitars lineup was augmented in 1996 with Affinity and Pro Tone/Vista series guitars and basses. Entry-level Affinity Series instruments were straightforward, basic Stratocaster, Telecaster and Precision Bass guitars in black, red and white. Next came the existing Standard Series, and at the top of the line were the new Pro Tone models, fine instruments with special touches (aged plastic parts, shell pickguards, painted headcaps, etc.) that appealed to the growing number of Squier players who preferred to upgrade their instruments with after-market parts.
Squier Pro Tone Stratocaster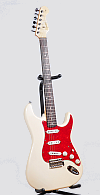 Higher-end options such as transparent finishes on ash bodies and gold hardware began to drive Squier prices up and elevate the brand perhaps a bit too close to Fender and Fender Japan during this brief era.
Rounding Out The '90s...
Squier Vista Super-Sonic

Non-traditional Squier Vista Series instruments were also introduced in this period. Some Vista models, such as the Super-Sonic, Venus and Venus XII(a 12-string guitar), were innovative designs with no clear Fender predecessors; others combined Fender features from different models into all-new creations such as the Jagmaster, which remains a solid Squier performer to this day.
Squier Vista Jagmaster
The Affinity Series paved the way for the subsequent great success of Squier instrument/amp/accessory packages, such as the
Strat Pak
and
Bass Pak
, that provided aspiring musicians with everything they need to enter the world of amplified music in a single all-in-one purchase (usually by mom or dad).
Fender had previously experimented with "holiday bundles", but the Squier instrument package concept proved wildly successful, putting a new generation of young musicians on a path to making music.
Next: Squier Guitars In The 21st Century...
Source: Official Squier Guitars Website