If you tried to write a more unlikely script for a reality show based around starting a new business venture in the music industry in the year 2009 you would be hard-pressed to come up with the turn of events that have unfolded for one Chicago area native, Dean B. Zelinsky, along with his partners Jeff Diamant, and Terry Martin of Houston Texas. The partners joining Dean in his latest venture are themselves veterans in the music industry based on running the Diamond Amplifier Company.
DBZ Electric Guitars Are Born...
The chance meeting of Dean B. Zelinsky and Jeff Diamant was based on Dean dropping in on a boutique (high-end) dealer one day and was listening to guitars being demonstrated on a Diamond Amplifier. The sound was so amazing that Dean inquired about the amps and where the company was based. About the time Dean decided it was time to start a new company to be able to have 100% creative freedom and control over his famous designs, Diamant and Martin were looking to partner with a synergistic company in order to gain distribution while building their brand, featuring amplifiers ranging from vintage classic combo amps & cabinets, to the top metal all tube power-house heads and classic cabinets that cater to a gamut of players as does the market for the electric guitars Dean wanted for his new Guitar company. DBZ electric guitars were on the way.
Sounds like all the right pieces of the perfect marriage; i.e., a legendary guitar designer/builder, with the premier boutique amplifier manufacturer joining forces to "combine & conquer". However, the US economy in 2009 was less than conducive to success for any new business. Adding to that, was the fact that most businesses who selling musical instruments are servicing large debt themselves, dealing with a declining customer base, competing with big box stores encroaching on their turf, dealers who in some cases are facing not being able to keep up with their bills, and laying off employees for the first time ever.
This is the backdrop to the new business plan put into action by Zelinsky, Diamant and Martin. They unfurled their launch of DBZ electric guitars in early 2009. The result was and remains a resounding success with sales matching their year-1 projections almost to the penny!
DBZ Electric Guitars Beat The Economy...
To fully appreciate how incredible this accomplishment has been you have to understand a few points of reference. One, Dean B. Zelinsky founded Dean Guitars at 20 years old in the late 1970's, beating almost all odds by creating a line of guitars that took on the biggest manufacturers in the world and rose above the clutter to become a household name (in any house where there was a guitar). Two, he did this by himself, essentially teaching himself all aspects of the manufacturing process, accounting, sales, inventory management - everything about growing a guitar business was done under this young entrepreneur's watchful eye. If you have ever seen the back pages of Guitar Player Magazine, Premier Guitar, Guitar World, Guitar Edge, Total Guitars, Music Trade, Musical Merchandise Review, Music Connection Magazine, etc., you will notice that the world is full of people that want to market their guitar designs. Getting a new guitar company going is not something that is easy even in the best of times.
The biggest similarity between the launch of Dean Zelinsky's first guitar company in 1977 to the inception and launch of DBZ Guitars is as follows. In 1977 the economy was strong, but in just a few years would be heading into a recession that drove guitar manufacturers like Gibson and Fender to start importing. Whereas, in mid-2008 while the business plan for a new breed of electric and acoustic guitars designed by Dean B. Zelinsky was being written, the economy in the US was thought to be strong, but then the hammer dropped and dropped hard in September and slid to near Great Depression levels soon after the DBZ Guitar Company launch. You would think that would have spelled doom for DBZ electric guitars. Not so.
With all the turmoil in the US economy, how is it that a new company can be successful in such a storm? Easy! The same dynamic that was in play for Dean and his guitar designs, was working for him back in the late 1970's. In 2009 there were a handful of major guitar manufacturers and they were for the most part, large corporations that have huge numbers to hit every month, many employees to keep employed and a dealer base that continues to suffer from the backlash of economic recession. So they have little room to move when faced with a shrinking market. People were laid off, orders shrank and they had to do all kinds of creative maneouvers to prevent inventory from coming back.
While you would never write a business plan that included forming a new company to sell into a shrinking guitar market during hard times, the net result is that DBZ electric guitars were fortunate to have a loyal following of Dean B. Zelinsky's guitar designs who, in many cases, were tired of being pushed around by current manufacturers trying to "hit the numbers" - forcing inventory on them that wasn't selling. In contrast, DBZ came out of the gate with eight new electric guitar designs and several acoustic models that immediately began selling. Rep firms that were receiving notice from the major manufacturers that their commission structures were changing, along with added expectations (perhaps unrealistic in recessionary times), were being increased, started contacting Dean about his new company and before long, Dean once again was in the position to concentrate on making quality guitars with the expectation being that they would use this precious time to build the company that has all the products dealers and players want as opposed to trying to peddle unwanted merchandise for little margin. Even though it didn't really seem so, conditions were ripe for the success of DBZ electric guitars.
DBZ electric guitars - Great Popularity And Support Wins The Day...
Click Image For A Larger View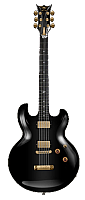 The DBZ company is instantly recognizable for its distinctive new designs by Dean himself. The 30 plus years experience that led artists like Kerry Livgren, Billy Gibbons, Dimebag Darrell, Sammy Hagar, and many, many more, is leading a whole new breed of guitar players to join the Dean of Guitars, DBZ Guitars. Diamond Amplifiers is also experiencing a boom in sales & both companies are better for having joined forces.
Click Image For A Larger View

Another major factor that was critical to the success of DBZ electric guitars is that right out of the gate DBZ Guitars had an immediate international distributor base, with millions of guitar players who heard he had started his new company. This led to instant worldwide distribution for a broad guitar line that has guitars in most every retail price range. This acceptance provided DBZ Guitars with a solid platform that allowed them to bring more innovation to the consumer, while offering music dealers something truly new to offer which has proved to help sales in a sluggish economy. That's a winning combination in any economic climate.
New areas of innovation included CNC precise contouring of guitar bodies, as in the DBZ Imperial that when turned sideways is one of the thinnest solid (full) body guitars in the world, intricate fine carving with the ability to provide a limitless variety of 3-D renderings added to maple tops, as in the DBZ Bolero Croc. DBZ Guitars is also adding stunning graphics to highly contoured body shapes for the Metal guitars they market under the DBZ Dark Side moniker(the Bird Of Prey Sepulchre at the top of this page is one of the Dark Side models - these are truly awesome guitars). Check out this video review of a Bird Of Prey and you'll see what I mean:


Credit: The Music Farm, Farm TV
To sum things up, the current DBZ electric guitar line-up contains the best looking, best playing, best sounding, best balanced and highest quality electric guitars that you will find anywhere. That DBZ can pull this off and still keep their guitars at price points that you don't have to be a rock star to afford, is simply amazing. If you're a serious guitarist, you need one or more DBZ electric guitars in your collection.