BC Rich Bass Guitars...
Wicked Looks, Thundering Sound
BC Rich Widow WMD Bass Guitar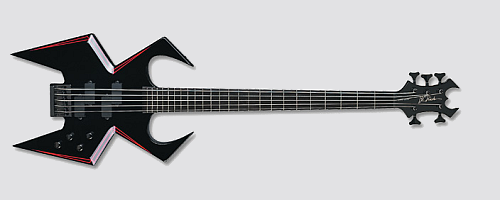 BC Rich bass guitars are a Heavy Metal bass guitarist's dream. Their wicked looks and thundering sound are unmatched by any other bass guitar in existence. BC Rich Guitars traces its beginning to 1969 when Bernie Rico first built electric guitars. Bernie started with 10 electric guitars based on Gibson's Les Paul and 10 bass guitars based on Gibson's EB-3. Bernie originally built and repaired flamenco and classical guitars and brought the same high standards of quality craftsmanship and materials required of these types of guitars to his electrics.
To make a long story short, Bernie's designs were radical looking almost to the point of looking like weapons as much as musical instruments. BC Rich also developed their own pickups and electronics specially voiced for their guitars and basses. As a result, BC Rich guitars, including BC Rich bass guitars became favorites with the Heavy Metal musicians of the 1980's and 1990's. Their radical in your face looks and screaming Metal sound make them the perfect instruments of choice for Heavy Metal. I can personally attest to this as the proud(and satisfied) owner of one the first BC Rich WMD Warbeast six string electric guitars made. If you are interested in a full history of BC Rich Guitars, you can find it here.
Over the years BC Rich has produced many killer bass guitars and has remained a favorite of Metal players. That tradition continues to this day. Currently, there are 9 body styles in production including three artist signature models and other variations which add up to a total of 19 models. Check these killer BC Rich bass guitars out and I'm sure you'll find something that strikes your fancy.
The Current BC Rich Bass Guitar Lineup...
If You're Interested In Purchasing One Of These Fine Guitars, Click On The Guitar Name
My apologies for not giving you links to all the BC Rich bass guitars, but the vendors that I have affiliate relationships with don't have them all in stock. I'll keep my eyes peeled and when they get them, I'll provide links. Or, if I can find other vendors that do have them I'll post links if I can develop affiliate relationships with them.
To sum things up, let me just say that if you are a Heavy Metal bassist and you want a high quality instrument that combines serious attitude with thundering, screaming tone and sound, you won't go wrong with a BC Rich bass guitar.