Epiphone Beginner Bass Guitars...
Great Looks, Great Price, Great Performance
Epiphone Goth Thunderbird IV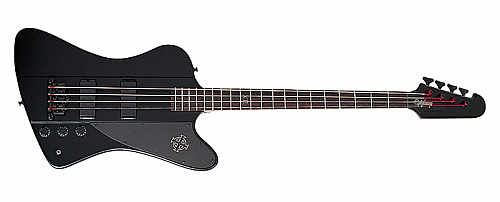 Epiphone beginner bass guitars
are high quality, hard rocking instruments for the beginning bass guitarist. When you're starting out you don't need high dollar professional instruments and equipment but you do need quality equipment at an affordable price. Being a part of the Gibson guitar family, you know that when you choose an Epiphone electric bass guitar, you are getting a quality instrument regardless of the price point.

Being what they are, Epiphone electric bass guitars can be quite pricey. However, there are models that you can buy for around $400 and under. This in the price range that I consider to be a reasonable investment for the beginning bass guitarist. Currently, Epiphone produces a number of models that I would consider to be an Epiphone beginner bass guitar because they fall within this price range.

Epiphone's 2011 models are: the Epiphone EB-0
, the Epiphone EB-3
, the Epiphone Les Paul Special bass guitar, the Epiphone Thunderbird IV
, the Epiphone Goth Thunderbird IV
, and the Epiphone Nikki Sixx Blackbird bass. Pick your weapon and ROAR!
Epiphone Beginner Bass Guitars...
If You're Interested In Purchasing One Of These Fine Guitars, Click On The Guitar Name
To sum up, the Epiphone beginner bass guitars I've listed are a great choice for the player who wants Gibson looks, sound and playability but can't afford the Gibson price tag. To be honest, many Epiphone models have very high price tags - they are part of the Gibson family of guitars, after all. The Epiphone models I've listed here aren't the only ones that fit my criteria of around $400 or less for a beginner level bass guitar. You can find many more at Guitar Center
, Shop Musicians Friend
, Music123
and Sam Ash
. I just wanted to give you a good representation of the variety of Epiphone beginner bass guitars that are available.
ROCK ON!!