The Jackson Kelly electric guitar is a machine designed for the serious Metal guitarist. Its aggressive looks scream Heavy Metal and its extremely fast playability and hard core tone and sound are the very definition of Heavy Metal. It has been a popular electric guitar with many of the top artists in the business, such as Marty Friedman(Megadeth) who had a custom model - the KE1 - made for him and Adam Darski(Behemoth). The Jackson Kelly electric guitar was designed by Bradford Kelly of the the Australian Heavy Metal band, Heaven.
About the Jackson Kelly...
Jackson Kelly KE2
The Jackson Kelly electric guitar looks like a trimmed down, sleeker version of Gibson's famous Explorer. The Kelly's headstock is similar to the Explorer's but narrower and pointier, lending to the "Heavy Metal" look. In fact, many of the Jackson guitars share the headstock design.

All in all, the Jackson Kelly electric guitar is definitely a "full-blooded" Jackson. It has the stylish, hard rock look which is popular with Heavy Metal and harder rock guitarists and has a unique, face melting sound that can't be mistaken for anything other than all out Heavy Metal.

The Kelly's distinctive body shape is responsible for its unique tone and sustain and also puts the neck further out than other guitars, making it very easy to play high up the neck. The neck of the Jackson Kelly shares the same "classical guitar" neck style with the Rhoads and is probably the thinnest of all Jacksons. In addition, being "cut out" towards the center of the guitar makes for a very "fast" neck, which is a feature sought by Heavy Metal shredders.

The Jackson Kelly electric guitar is also a very solid, robust guitar. This is an absolute must for a guitar that is going to be used in a Heavy Metal band as they see very hard usage, being slung, thrown and banged around. A Heavy Metal guitar has to be able to take the abuse without falling apart or going out of tune. The Jackson Kelly definitely doesn't disappoint in this regard. The Kelly is beyond a shadow of a doubt a very solid guitar that can pretty much take anything you can throw at it.
My Personal Take On The Kelly...
My Custom Kelly KE2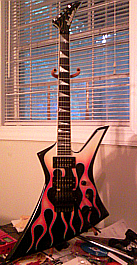 I've owned my custom Kelly KE2 for a litle over two years now. In fact, I traded a wonderful Gibson Explorer for it. Not that I didn't like the Explorer but the custom KE2 is not only a Jackson, but also one of the highest of the high end models. I can honestly say that the guitar plays wonderfully and has a sound that would would make any Heavy Metal fan or player drool.

The guitar isn't exactly light but it won't break your back during a two or three hour session. My only quibble is that it's slightly neck heavy, but with a wide strap for the extra friction it supplies and some playing time to get used to the guitar's balance it isn't a problem. It's easy to take full advantage of the lightning fast neck. In addition, like its stablemate, the Rhoads, the Jackson Kelly electric guitar is an absolute artificial harmonics monster. You can make it scream and wail like a banshee. The Original Floyd Rose tremolo doesn't hurt, either.
The Current Jackson Kelly Electric Guitar Lineup...
If You're Interested In Purchasing One Of These Fine Guitars, Click On The Guitar Name
Jackson currently offers five versions of the Kelly:
JS Series:

JS32 Kelly w/Floyd Rose:


Click Image For A Larger View





The JS32 Kelly has a high output Jackson CVR2 humbucker pickup at the bridge. It has a bolt-on maple neck with a compound radius, 24 fret fretboard. A tilt-back headstock, chrome hardware and a Floyd Rose-Licensed double locking tremolo bridge.



JS32T Kelly:


Click Image For A Larger View





The JS32T Kelly two high output Jackson CVR2 humbucker pickups, one at the bridge and one at the neck. It has a string-thru-body design with a JT390 adjustable bridge and chrome hardware. In addition, it has a bolt-on maple neck with a 24 fret compound radius fretboard.




Pro Series:

KE3 Kelly:


Click Image For A Larger View





The KE3 Kelly has two Seymour Duncan humbuckers, a Jazz SHN2 at the neck and JB TB4 at the bridge. The Kelly has an alder body, a bolt-on rock maple neck with a 24 fret, compound radius maple fretboard. To top it off, the KE3 Kelly has a Floyd Rose Licensed Jackson Low Profile JT580 LP double-locking 2-Point Tremolo bridge and black hardware.



KE5FR Kelly:


Click Image For A Larger View





The Jackson KE5FR Kelly electric guitar has the classic Kelly body shape and features an alder body, rock maple neck-through-body, 24 fret compound-radius rosewood fingerboard, Seymour Duncan JB (bridge) and Jazz (neck) humbucking pickups, a Floyd Rose FRT-O2000 double-locking two-point tremolo and black hardware.




USA Select Series:
In conclusion, let me just say that if you are looking for a serious Heavy Metal guitar, you owe it to yourself to give the Jackson Kelly electric guitar a look regardless of which model you choose.