Epiphone Electric Guitars...
The Guitars Emerge
The Winds of Change - Again...
Epiphone Recording C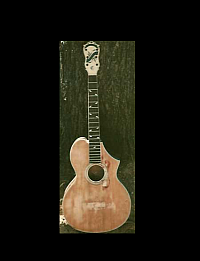 Epiphone electric guitars
were not yet a reality but they were on their way. The stock market crash of 1929 plus a sudden slump in the popularity of the banjo spelled the end for many instrument manufacturers. Not Epi, however. Once again he recognized the need for change and went with the flow. At the height of the banjo boom in 1928 he released the Recording guitar series. They were somewhat odd looking guitars with somewhat uninspired names, being called Recording A, Recording B, etc.
1931 Epiphone Masterbilt Deluxe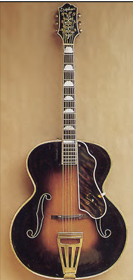 The guitar's time in the sun had come but Epi's Recording series was unsuccessful. The guitars were too small and ornate as well as having a low volume. Undaunted, Epi took a page from Gibson's book and introduced the Masterbilt series. The Masterbilt series was inspired by Gibson's Master Model series. Despite their similarities to the Master Model series, Epi's Masterbilt series was meant to destroy the Master Model range rather than copy it.
Warfare!...
Epiphone Emporer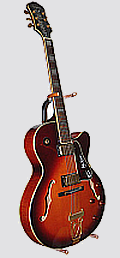 The introduction of the Masterbilt series started a rivalry between Epiphone and Gibson that would rage throughout the 1930's and would range from friendly sparring to all-out warfare as each tried to outdo the other. Slighted by the introduction of the Masterbilts, Gibson increased the body size of its existing models and introduced the King-sized Super 400. Epi responded by releasing the Emporer which had a wider body and a provocative advertising campaign featuring a semi-nude woman playing the guitar. Epi struck again in 1936 releasing versions of his DeLuxe, Broadway and Triumph models which were an inch wider than the originals. Epi was determined to win the battle.
The rivalry between the two raged throughout the 1930's with each constantly trying to outdo the other, releasing competing models and even new lines of totally different instruments. If Gibson introduced a line of violins, Epi responded with a line of upright basses. Things were about to change, though.