BC Rich Electric Guitars...
The Heavy Metal Beasts Emerge
Mockingbird ST

Following the success of the Seagull, BC Rich electric guitars were poised to storm the Heavy Metal market.
BC Rich guitars
were soon to become known for radical shapes and high quality. They were also soon to become the darlings of the Heavy Metal set due to their quality and the aggressive, "in your face" menacing looks and sound that Heavy Metal artists wanted.
Somewhere around 1976 the
Mockingbird
made its debut. The Mockingbird has been very popular over the years, being used by guitarists such as Slash of Guns N' Roses and Craig Chaquico of Jefferson Starship. The next major model, the Bich(designed by Neil Moser) propelled BC Rich electric guitars even further into the Heavy Metal world.
BC Rich Bich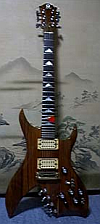 The
Bich
(played by Dave Mustaine when he was with Metallica) was a very radical looking guitar, originally having 10 strings. Most players really didn't care about having 10 strings and often removed the hardware, so a
six string version
of the Bich was later released.
Warlock

In 1981, the
Warlock
, one of BC Rich's most famous models was introduced. It instantly became popular and was used by players such as Lita Ford, Robb Flynn of Machine Head and Kerry King of Slayer(King now has several BC Rich Signature models). Another early 1980s design, the
Ironbird
, was used by Paul Stanley of KISS.
Ironbird
All in all, the roster of the players of BC Rich electric guitars reads like a Who's Who of Rock stars. Along with the artists mentioned above, BC Rich guitars have been used by Blackie Lawless of WASP, Rick Derringer(Rick actually designed his own model called the Stealth), Nikki Sixx of Motley Crue, Jerry Dixon and Eric Turner of Warrant, Gene Simmons of KISS, Joe Perry of Areosmith, Bobby Dahl and C.C. DeVille of Poison, Eric Clapton, Roy Orbison, Paul Gilbert and many, many others. Obviously, BC Rich guitars were highly thought of by the professionals.
BC Rich guitars were on a roll but, unfortunately, things were soon to change.